An Interview With Dr. Sanjeev Ranganathan
STEMLand is a learning and resource centre specialised in science, technology, engineering and maths (STEM). It is situated in Udavi and Isai Ambalam. Please tell us more…​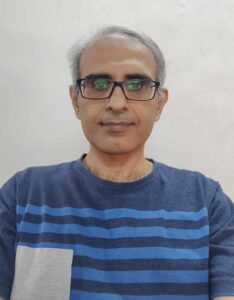 The 2 centres in Udavi and Isai Ambalam are the intensive ones, we also offer support in other places with 1 to 3 sessions per week. We have centres in Aikiyam School and AIAT (Auroville Institute of Applied Technology), sessions are also conducted in Auroville schools like TLC and Last School. In Thamarai we have 1 session per week.
When did you start the sessions in collaboration with Thamarai?
We started before the lock-down, so more than 1.5 years I think, with the children and now we are working with a facilitator, Vishnu, who is going to set up a centre in Thamarai. He is training here in Udavi and was even staying here because of the lock-down, we were creating a bubble where people just stay.
What are the values you bring into these courses?
For us, the values that are important are responsibility, equality and courage to create. So we have an emphasis on learning through building or creating something to demonstrate learning.
For example, for younger children at Isai Ambalam School we do a lot of "hands on" creation. Younger children need touch and feel.
Another example, we had sleep overs at the school, it was dark and children wanted to make their own torches. They each made one and light fixtures.
We had some issues with water so they made an instrument to measure the depth of the water in the bore-well. They made an alarm system that turns off the water when it overflows… real life projects.
The older children work more on virtual projects, they created a software to interact with and then show mathematical concepts. So that's one aspect of it. The other aspect is we work on things children care about.
We also do the Radical Transformational Leadership (RTL) program with the children to ask that question. In Udavi we give the children the freedom to decide how they want to work, who they want to work with, what they want to work on. At that time we were looking at the constructivist paradigm but it is closer to integral education, the mind has to be included in it's own growth.
We did a recent survey with the alumni in Udavi, 2 years after and they were reflecting how they felt responsible, when other times they felt spoon-fed, and they also felt respected. So they enjoyed it and at the same time they worked hard.
How do you see the collaboration with Thamarai in the future?
We are setting up a STEM centre, it will have access to all the activities and hopefully, with Vishnu from Thamarai training here, we will also bring the culture of learning.
We want all our centres to be open to learning, then the youth would also go there, the same way as they come here. And that will enrich the space as well, the children will then see that the purpose of becoming old is not to get out of school. They will see that adults also want to learn. Most of the schools have people who want to teach, the children don't have any role model learners, they don't see adults learn. I think that would be a culture change that can be very valuable for the youth there.
Ilakiyan and Vishnu in STEMLand
8th standard Thamarai student Ilakiyan cycles each evening for 45 minutes both ways to attend STEMland where he spends 3.5 hours learning computer coding and mixing with older students and computer programmers. Ilakiyan says "I really like this experience which starts with an hour of Badminton before a self learning program in the coding language Python". It is a quantum shift from his school experience where all things related to computers is taught from a book with little hands on experience.
Vishnu, an alumni of Thamarai, and full-time team member is spending a three month period training at STEMLand so he can be the team lead for the Science, Technology, Electronics and Maths classroom that is currently being built in the new Thamarai learning Centre in Annai Nagar village. This facility will support the 90 children attending Thamarai to deepen their contact with digital literacy and learn the joy of coding. It will enhance information and communications technology, logical thinking and the development of the critical and synthesizing mind. We look forward to both Ilakiyan and Vishnu back at Thamarai to bring their expertise and passion for technology to us all.