Thamarai (is the Tamil word for lotus flower) the project, stands for the values of full potential and well being for a thriving people and planet. We engage with the villages near the International township of Auroville since 2006, with a series of formal and informal education projects including two after schools for 120 children, a natural health care education program and well being service, environmental and sports program and community leadership and capacity development.
In context to our 14 years of service with children and youth, Thamarai's work has been a counter support to a strong reliance on rote education in schools, inadequate literacy skills and social issues such as debt and addiction. Thamarai continues to create an enabling environment for the children to be creative, expressive, responsible while improving their learning curve and life skills.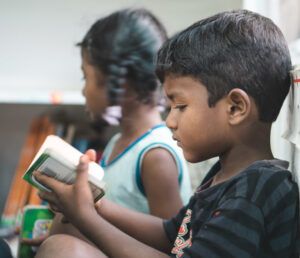 Purpose
Co-create an enabling environment to foster the full potential and well-being of all, particularly children.
Objectives
To foster the full potential within and among children, youth and communities.
To address the gap in mainstream education system by enabling a quality and holistic after school learning environment
To support young people to become active and responsible citizens and stewards/leaders.
To co-create an enabling community environment for well-being of the people and the planet.