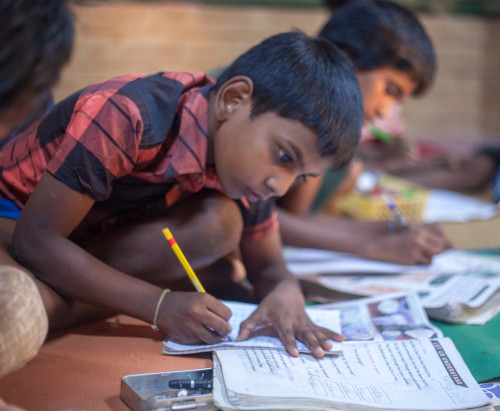 At the Origin of the After Schools
We started in 2006 when Village parents requested homework support for their children, we responded but also included a wide range of supplementary education programs to enhance the children's overall development because at Thamarai we are passionate about the values of well being and full potential- we want each child to have opportunity to blossom to their full potential. So homework support is a daily feature of our programs but is supplemented with sports, arts, cultural activities and themed core subject classes, language and digital literacy in two villages surrounding Auroville. We support local youth, graduates and undergraduates from the villages to become after-school facilitators to support the younger generation with their studies. Many of our current facilitators are alumni, that is they were children in Thamarai in 2006 and are now university graduates. They have achieved much so far in their lives and are powerful role models who want to give back to the next generation of children.
We Have Two After School Facilities
Annai Nagar
The Annai Nagar after school currently has 90 regular children and a team of 11 youth facilitators daily (local and international) and many regular visiting facilitators for special classes. This makes a rich cross cultural and cross generational environment where each one is a student and a teacher. We grow and learn together. Annai Nagar is a marginalised community with a population of 1,500 people and 135 families. What has been an interesting development is the number of children/youth who are attending the service from surrounding villages thus breaking caste barriers. We have enhanced our programmes by incorporating digital literacy and English as key components, as well as widening our sense of place with linkages to projects and student in other locations locally and worldwide.
At Thamarai, we received stewardship of Auroville land in this village in 2019 for village development activities. We will begin the construction of permanent after-school centre on the land in October 2019. The project is also currently funding and facilitating the development of village sports ground which will provide proper sports facility to the youth and children of the village.
Edayanchavadi
The Edayanchavadi, the after school is located on Auroville land next to the most marginalised section of Edayanchavadi village and currently has 30 regular students and 3 facilitators. This after-school centre was inaugurated in July 2019 with the support of Joy of Impermanence community on whose land the after school building is. Thamarai began its first after-school programme in this village in 2006 and closed 11 years later due to issue over a premises. An ex-student of Thamarai from this village then began an after-school facility at his home but he soon approached us as there was a great need. His motivation inspired us to begin the after-school service again in this village. The centre is currently a temporary bamboo-hay structure that accommodates 20 children but we do have plans to expand the service in the future.