by Gunavathi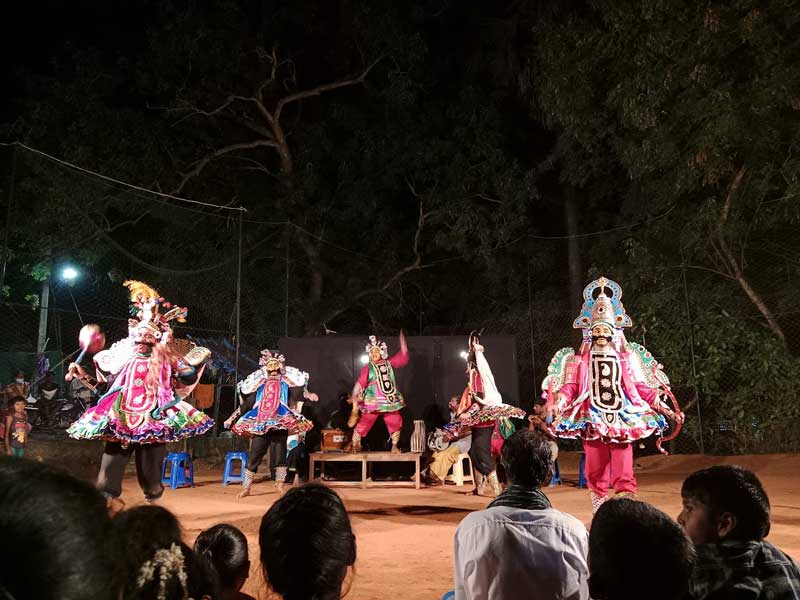 Indianostrum Theatre Pondicherry and Thamarai joined hands for the second time in six months to bring street theatre to Annai nagar and nearby villages. This play called Abimanyu is all about courage and overcoming challenges. Here is a report by youth facilitator Gunavathi who said "this is the first performance I have ever seen where three girls performed the leading roles and acted as men. I felt very proud because of this. I was inspired because this is breaking old patterns and habits and giving women confidence and empowering them"
On January 22, 2023, we organised a Street play in Annai Nagar sports ground, performed by the Indianostrum Theatre team. The play is called Veera Abhimanyu and was performed by a team of fifteen artists. The story is from a part of Mahabharata Purana. One of the aims of the performance is to breathe new life into the art of Street Play so that this tradition does not die.
The main character Abhimanyu was the son of Arjuna, the third Pandava and Subhadra, Krishna's sister and his wife was Subathera. Abhimanyu is a courageous person who helps his father in the Mahabharata war against Duryodhana. The story is about the challenges he faced when he was fighting. One thing that touched me in this play was that during the war whatever struggle Abimanyu faced, he never lost his confidence and will-power. This makes his opponent very challenged. By the end of the story Abimanyu died but people go on speaking about him, his talent, courage and confidence. He lives on in this way.
In the past, Street Play (called Therukoothu in Tamil) was performed by men. But this is the first performance I have ever seen where three girls performed the leading roles and acted as men. I felt very proud of this. I was inspired because this is breaking old patterns and habits and giving women confidence and empowering them.
Mahabharata is a very long story and I find it difficult to understand the entire story from the book. This kind of play clearly explains the important parts of the story in a short time and the children who watched will have a much better understanding of the big story. There was a special message in the play about the experience of elders. In the beginning Abimanyu was not listening to his parent's suggestions and by the end, he had to face many difficulties. From this, the audience were able to reflect that when parents or elders are giving suggestions they can think of it from the perspective of experience rather than only advice.