Sharing information
Thamarai team has been concentrating efforts to enhance opportunities for young adults to get started with careers in life. We have a drop in service where information on training and cost free college opportunities is available and supports such as application filling with English and digital literacy training. We are in discussion with Auroville youthlink to join their mentoring program where skilled professionals support youth to become skilled. We recently has an information evening.
One evening together
Thamarai arranged an information evening for the village youths, college school students about career opportunities and skill development some months back at Thamarai learning center. Resource people from around Auroville and further afield such as Muthukumaran from Menaki, Delhi came to explain what is on offer for young people through their organizations.
Muthukumari, who offers natural health programs, welcomed and introduced the resource people.
Duraisami from C3stemland explained about the Shifu project, which is an intensive 1 year computer coding course that develops technical skills and competency but also inner potential through leadership and mindfulness training, Duraisami is an Engineer and he is one of the mentors of the Shifu program. Shifu means Master, it means the youth can develop their technical knowledge and they will become a master on that and themselves. After his explanation, Sribavani shared her experience of completing the shifu course. The selection process for this course is face to face interview and written test. Anyone who completed 12th standard is eligible for applying to this course. The food and accommodation for this course is free for one year and graduates get employed through the company Aurosemicinductors.
Muthukumar from Delhi explained the project about Navgurukal, a non-profit dedicated to bringing affordable tech education to underprivileged girls in India, they have five campuses for girls and one for boys around India. They have an entrance exam for choosing the students, once they selected, they offer the free food and accommodation until they finish the course. At the end of this course the student will get placed in multinational companies. Anyone who completed 10th standard is eligible for this course.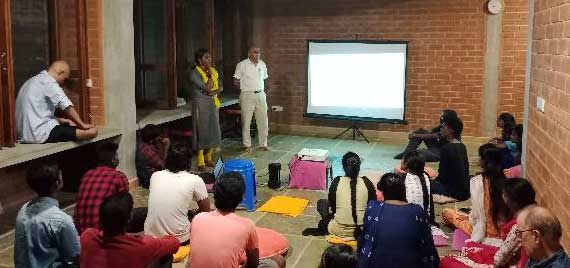 Then Krishnapriya from Auroville Institute of Applied Technology I will explain about their project. That is fully focused on practical learning and eligible for this course is 10th standard. Then Muthukumari explains about Sri Aurobindo Institute of Vocational Training. Poovizhi Explains Reach for the rest. It is about a scholarship program. They support the students who are living around Auroville for their higher studies. Then Abishek is one of the youths in Annai nagar who gets an opportunity to go to Germany, explains about the processing of it.
At the end of this course, the participants got many ideas about the opportunities for their future. The participants were fully engaged in the course without worrying about the timing. It ended with a wonderful thank you talk by Muthikumari.