The spice of life !
The generosity and concern of a French friend touched us all deeply recently when he gave us a donation to buy immunity-boosting spices so that the Thamarai children and their families could remain healthy with strong systems to fight symptoms of COVID. 
This care stretched to over 100 families who received two month supply of spices that warm the body and, according to the ancient Indian medical system of Ayurveda, supports the body to fight off early traces of imbalance such as a virus.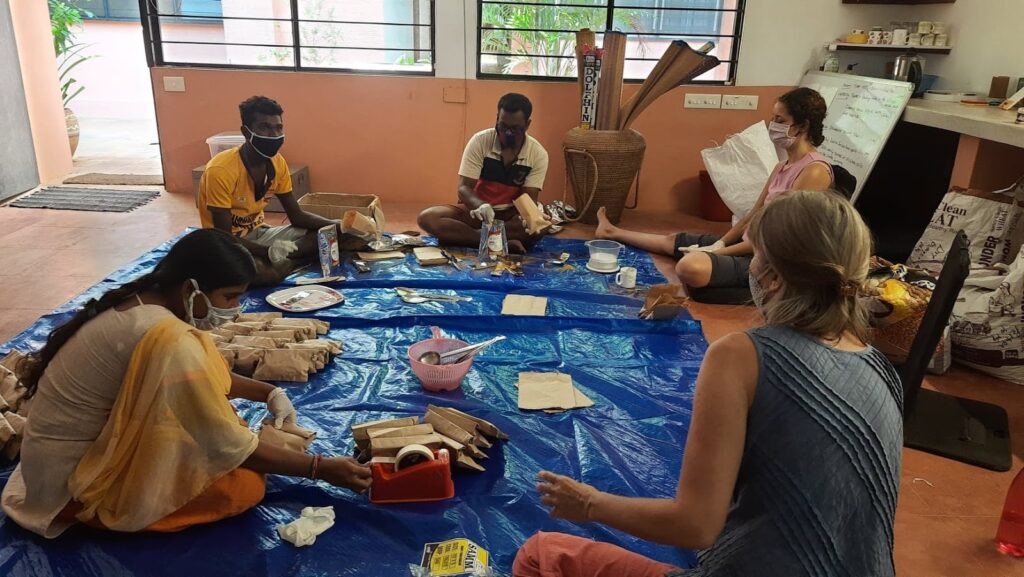 Preparing the distribution of the spices
Volunteer Vignesh led the shopping trip to Pondicherry to procure the large quantity of pepper, cumin, dry ginger, garlic, cinnamon needed and asked his dad to bring Turmeric from distant Erode as he knew it was much better quality than that grown locally. 
The Thamarai team had a very sweet time coming together to pack the spices,  amid the wonderful aroma we were high on laughter, jokes, and stories!
Our little production line carefully weighted the precious material so that it stretched equally among all the families, made various packages and little notes with big hearts to all the children who we have been dearly missing. Despite hearing their voices on our daily learning calls we miss seeing them and learning together.
A door-to-door distribution in the villages
But lo and behold as soon as we arrived in the villages to start distribution, word got out, and soon our Thamarai students joined the team to manage the door-to-door distribution.
People were really surprised and very grateful to receive the spices as prices had increased greatly and some spices, such as cinnamon, are considered a luxury. The packages came with recommendations on recipes and health benefits. For days afterward people were stopping our team giving appreciation and to convey thanks to our friend whose big heart is felt strongly despite being