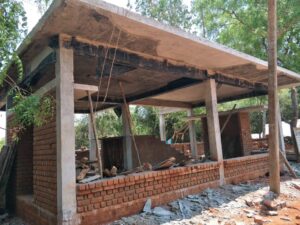 Celebration for the stage 1 of Thamarai Learning Centre
On Saturday March 28th, the construction team, for our new learning centre, held a celebration prior to the cement being poured for the ground floor ceiling as part of the beautiful Indian tradition held at the major stages in projects where flowers, incense, fire and prayers are offered and sweets disbursed to support success. And it was just in time as the first floor of the centre was complete by the time quarantine was announced and the site was closed until further notice but at least we have our walls in place and a roof over our head !
A new Thamarai thanks to Electric Aid Ireland
The new centre will host a ground plus two classroom building with a sports ground. Blessings arrived a few days later with the confirmation of a grant of 8lakh (10,000euro), from Electric Aid Ireland which will help us to complete the first phase of the project, (ground floor classroom and first-floor open area, kitchen and an outdoor learning space) that we hope to have open just after the summer holidays.
The children are excited and often point to it saying "new Thamarai, new Thamarai". As children are an intrinsic part of everything we do, they have already designed the sports ground and chosen the designated games to be assigned courts.
Post Covid 19 lockdown they will be involved in the interior design and they have already come up with outdoor micro project ideas they want to work on such as water saving technology, tree house building, tree planting, garden and small children's play area.