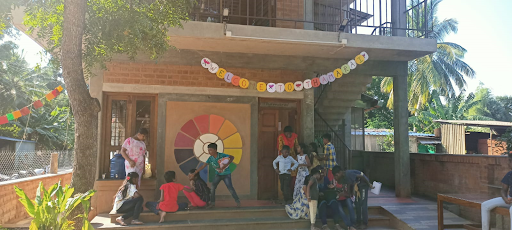 Thamarai, solar powered, learning centre is finally finished!!
Thank you to the many friends, family and sponsors who have all supported us to manifest this dream. Also to the amazing construction and design teams who put so much energy into the new homebase for all our outreach projects.
The centre has been built with a sensitivity to our carbon footprint and ideas from the children.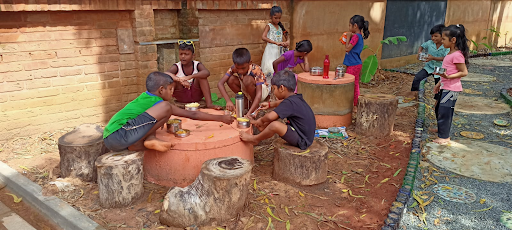 We have incorporated Ecosan compost toilets, recycled plastic doors and compressed earth brick to reduce concrete.
Our team member Silky designed the rainwater and water management system that collects the rainwater from the metal roof and surface paving into a series of interconnected percolation pits that filters it to become part of the groundwater assisting the natural life cycle of water and restricting over run off. The percolation pit covers act as stepping stones of the walkway in the garden area that meanders through the garden and connects the main building and the toilet block.
The walkway integrates discarded glass bottles as part of the design.
Throughout the garden area, flowers like hibiscus, Jasmine, Champa and more are planted. Banana, papaya, and spinach are also part of the garden.
A compound wall has been erected, with future plans for an exhibition sharing the values of Thamarai and the activities that happen here.