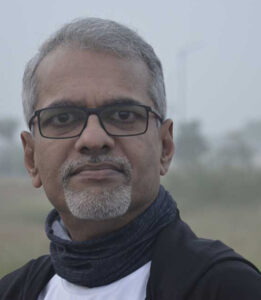 Encouraging participation from the villages
Psychosocial care and Radical Transformational Leadership program, fully in Tamil, is currently being taken by Thamarai team and 15 other participants. It provides a rich environment for shared learning. Thamarai facilitator Jagadeswari said "This is the first time the women of my village have joined such a program, I am very happy to connect with them in this way. I learned to deeply listen. I have taken up a project related to Covid. I find it's easy to reflect on myself, but more challenging to make changes in the wider society".
The program has been gifted to us by its co-creator, Srilatha Juvva, a professor from Tata Institute for Social Science. Srilatha is supported to deliver it by Suriyaprakash C, professor at Jansons School of Business, Coimbatore. Our Thamarai team provides technical and administrative support.
Values and action
The course helps us to anchor ourselves in universal values, and befriend stress to build resilience. Vignesh (Thamarai facilitator) shared "I have learned to still myself, connect and stand strong in the values I care about before taking actions, especially during pandemic situations. This will help me to make a great and clear step. I will use this in my everyday work".
We are taught to challenge disempowering cultural norms such as stigma, discern, and use our support systems to foster self-care. It also focuses on identifying experiences of stress and undertaking actions based on universal values for healing and building resilience. In caring for ourselves, we co-create a climate for caring for others. The assumption is that everyone is a 'leader' – a person who takes action at home, at work, and in society to create new futures and collectively foster responsibility, safety, humanity and well-being for all. The program supports us to source our inner capacity to lead in this manner. Savithri (Thamarai facilitator) shared that "I have learned to be a practitioner and that it's not only sharing knowledge during difficult times like Covid but also how to respond in a calm, effective way especially when dealing with children and families. Realising this, I am applying it with my students, family, and in my project".
It's important to practice the tools learned
We are midway through the program of two weekly, two-hour sessions, interspersed with a weekly triad practice group where we share our practice and reflections of using the tools in a smaller group setting. The practice is the important element that supports the embodiment of the tools and their application in our lives.
We have seen over the past year of this pandemic how we, as community volunteers, can play a key role in addressing the diverse needs of the children and families we are in contact with. This program builds our inner and outer toolkit to serve to the best of our potential.
We are grateful to Srilatha and Suriya for introducing us to this self-care module, Gayathri K.R. and Monica Sharma for their co-creation, and to our fellow participants for the richness of shared learning.