Kedge University and Thamarai: a 5 years collaboration
7 French students from kedge University, France visited us for 3 weeks in June, we all felt very happy to connect with them. Lou Savoldelli, Clara, Sonda, Julie, Taroun, Lou Bodson have been supporting us to complete the new learning centre we are building in Annai nagar. We have had a relationship with Kedge university for 5 years and look forward each year to their annual visit, which is always a wonderful opportunity and journey for shared learning.
Activities with students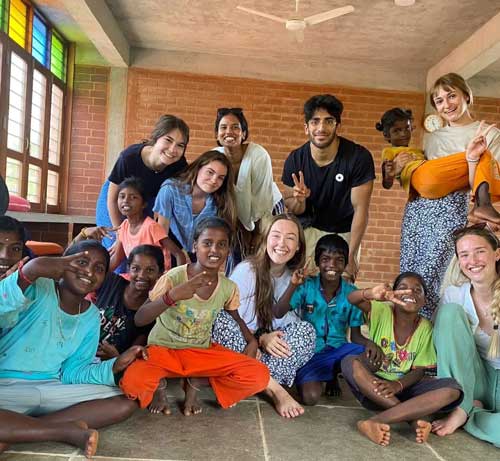 French students taught a new game to our students. Also they helped each student to write their own bio for an international story partnership where children in one location write half a story and it is finished by children on the other side of the world. The children had already written their half story on paper so with the help of French students our children computerised this and wrote their bio.The other joyful learning was that our students taught them Indian games. Their favourite was Kabadi. I learned how to post a poster on instagram and facebook, they explained very clearly with hashtags to post for thamarai and they taught me with hints.
Trip with the Volunteers from France
Our 9th grade students asked to go for a half day trip to Srima beach and the Botanical garden with the french team so we planned to go early in the morning at 7.30am. When we reached the beach we had breakfast and started to play frisbee and other activities there and then we went to Auroville botanical garden. In the gardens the guide explained about medicinal plants and its uses. Hearing all the names of medicinal plants and uses surprised us, and also inspired us to do medicinal gardening.